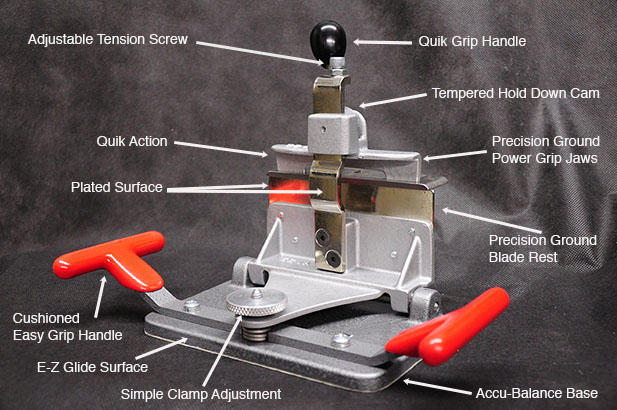 E-Z SHARP QUICK ACTION SKATE CLAMP WITH POWER GRIP
Skate sharpening made easy, the E-Z Sharp Quik Action Skate Clamp simplifies skate sharpening with its quick action mounting system.  Skates are fastened in seconds with unfailing accuracy.  Built to the specifications of your machine.
Note:  The E-Z Sharp Quik Action Skate Clamp can be designed and manufactured for all types of skate sharpening machines.
FAST * ACCURATE * DEPENDABLE

 Quik Action
Skate is fastened in seconds with unfailing accuracy.  Just insert skate and clamp with E-Z Sharp's exclusive power grip.

 Simple Clamp Adjustment
Skate sharpening made E-Z.  Single dial adjustments.  No complex multiple adjustments causing timely delays, inaccurate sharpening, and unhappy customers.  Easy to train new employees to use.

 Accu-Balanced Clamp Base
Provide the ultimate in balance and control.

 E-Z Glide Surface
Virtually eliminates table and clamp base wear.  Provides a steady E-Z Glide surface for the ultimate finish.  E-Z glide pads attach easily with self adhesive peel away.

 Tempered Hold Down Cam
Precision machined from special steel.  Controlled harden and heat treated for maximum durability and holding power.

 Precision Ground Blade Rest
Precision ground with machined surface accuracy.

 Cushioned Easy Grip Handles
Easy grip handles are positioned for maximum speed, balance, and accuracy.

 Power Grip Jaws
Specially machined jaws provide maximum holding power with ridge blade accuracy.

 Adjustable Cam Tension Screw
Machined radius for maximum holding power.

 Quik Grip Handle
Contour shaped for fast, positive locking action.

 Plated Surface
Both the blade rest and the clamp arm are plated for maximum durability and continued good looks.
 All machines & equipment are made in the U.S.A.
SATISFACTION GUARANTEED – WE BUILD QUALITY INTO EVERY PRODUCT WE MAKE